Update Center
Temporary Closure Notice
Staff shortages due to COVID-19, require us to close our Bethel Park and McMurray branch offices effective Monday, January 4 and plan to reopen Monday January 11.
We Are Excited to Welcome You Back;
We've Missed You!
As an organization, we are following all state and federal guidelines to ensure the safety of our members and our staff.
All branch lobbies will open Monday, June 8, 2020.
Bethel Park, Olympia and McMurray will be closed from 1:00 pm to 2:00 pm Monday through Friday, until further notice.
At this time, only West Mifflin and Duquesne will be open on Saturdays beginning June 13th until further notice.
When visiting a branch, you will see our staff wearing masks, so we ask that you wear a mask too. If our branches are extremely busy, we will have to limit the number of members that can be in a branch at any given time for the safety of our employees and you, our members. The maximum occupancy will be posted at each branch location. Remember to practice safe social distancing.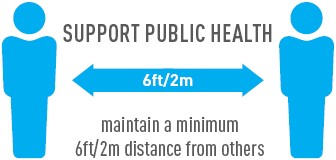 Branches will be sanitized regularly, and staff will continue to wipe down facilities and equipment throughout the day. For the safety of the staff and members alike, please do not enter a branch if you are sick or have been exposed to someone with COVID-19. Because we are still limited to the number of people in our branches at one time, we strongly encourage you to make appointments for services that may require more time, such as:
opening new accounts, or making changes to existing accounts
redeeming bonds, notary or signature guarantee service,
loan closings,
meeting with Dave Priore (our Financial Advisor), or
other services that may require more time.
Please call 412-650-2600 to schedule an appointment. In the current environment we encourage you to continue to do as much of your banking remotely as possible. For your convenience, we offer 24/7 eServices through Online and Mobile Banking. You can deposit a check, pay bills or control your cards from your phone anytime/anywhere.
We're Here to Help. We understand that current circumstances can cause major hardships for you. Please remember that your credit union is staffed with people just like you, who genuinely desire to help. If you are experiencing financial difficulty due to this situation, please contact us at 412-650-2600 or Click Here, for more information, so that together we can explore solutions that will allow you to maintain your financial health.
Emergency Loans Available
3/24/2020 3:45 P.M.
CHFCU is now offering an Emergency Loan for anyone who is experiencing financial hardship due to the COVID-19 virus.
Click here to Learn More >>
We're Here To Help
3/20/2020 4:00 P.M.
If you encounter financial hardship as a result of coronavirus, please call us at 412-650-2600 and "press 0" to discuss your options.
Important Message from the NCUA
3/20/2020 2:00 P.M.
Click Here for an important message from the National Credit Union Administration.
Please return to this page to see further updates.
Recent Updates
Update 1/4/21 9:45 P.M.
Temporary Branch Closure
Update 6/5/20 1:45 P.M.
Welcome Back; We've Missed You!
Update 3/25/20 3:45 P.M.
Branch Lobbies will remain closed until further notice.
Update 3/24/20 3:45 P.M.
Emergency Loans Available
Update 3/20/20 4:00 P.M.
We're Here To Help
Update 3/20/20 2:00 P.M.
Important Message from the NCUA