Additional Services
Co-Op Shared Branch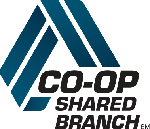 New logo. Same personal service at branches across the country.
At more than 5,000 branches and over 2,000 self-service locations in all 50 states, you can conduct transactions just like you would at your home credit union. That's because we're part of the CO-OP Shared Branch network. So you can make deposits, transfers and account inquiries, and get person-to-person assistance with your accounts, even when you're far from home. Simply look for the CO-OP Shared Branch logo. Finding the nearest branch is easy with locator tools that include phone, mobile app and Internet.
Just visit co-opsharedbranch.org.
Surcharge Free ATMs
Over 90,000+ Surcharge free ATMs are available worldwide to our members through the Allpoint, CU Here, MoneyPass, SUM, and CU$ ATM networks! To find an ATM location near you, click on the buttons below:
Find a Surcharge Free ATM >>
Order Checks
Running low on your personal checks? Need to re-stock?
Contact us today to place an order:
412-650-2600 >>
Money Orders
Money Orders are a convenient and safe way to send money through the mail or to pay bills. They may be purchased at any branch location for a nominal fee of $1.50 each. Money orders are available in amounts up to $1000.00.
Notary Service
As a convenience to our members we offer notary service at all of our branch offices. Please call ahead to confirm availability and schedule an appointment.
(Century Heritage notaries do not handle vehicle title work.)
Call to schedule and appointment
412-650-2600 >>
Find a Branch
All Locations >>
TruStage Insurance
TruStage: Insurance the credit union way.
Insurance protection is part of a solid financial plan. From getting a good rate on coverage for your car to making sure your life insurance is adequate, dependable insurance coverage ensures financial relief when you need it. And along the way, you'll take comfort in knowing you're protected.
TruStage insurance products and programs help members protect what matters most. Backed by nearly 80 years of working in partnership with credit unions and their members, you'll find products for life, car, AD&D, long-term care, home and more. TruStage offers straightforward information, real value and assurance. And it's only for credit union members like you.
To learn more, get quotes or just explore, visit trustage.com.
© CUNA Mutual Group, 2012 All Rights Reserved
TruStage™ is a marketing brand used to identify products offered through CMFG Life Insurance Company and programs offered through CMFG Life insurance agencies to credit union members.
CORP-1112-B43A
Visit TruStage >>
Invest In America
Invest in America is a membership enhancement program that offers members of credit unions discounts on products and services provided by U.S. based companies.
Click Here >>