Youth Clubs
Dollar Dog Kids Club

Membership in our Dollar Dog Kids Club is a perfect way to teach kids ages 12 and younger the value of saving and managing their money. By providing financial education to children in a fun way they will be better equipped to make wise financial decisions in the future.
To join simply deposit $10.00 into a Dollar Dog Kids account. If your child already has an account, stop in and we will make the necessary account change.
View Rates >> Visit Website >>
Cha-Ching Teen Club™

Financial information designed just for teens. Learn all about saving, spending, what other teens think, download stuff and get coupons.
To join and receive your Cha-Ching website password simply deposit $10.00 into a Cha-Ching Teen account, or contact us to convert an existing account.
View Rates >> Visit Website >>
The Edge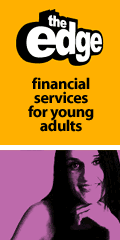 You're on the edge. The edge of adulthood. The edge of life. That means you're managing your finances on your own. Now you have expenses, like food, clothes, a car, or maybe school. Managing all your expenses isn't easy. Especially since after expenses, you want a little money left over for fun.
To get started on the road to managing your finances, you need to open a Savings Account at the credit union. That takes just a $10 deposit.