Refinance and SAVE in the New Year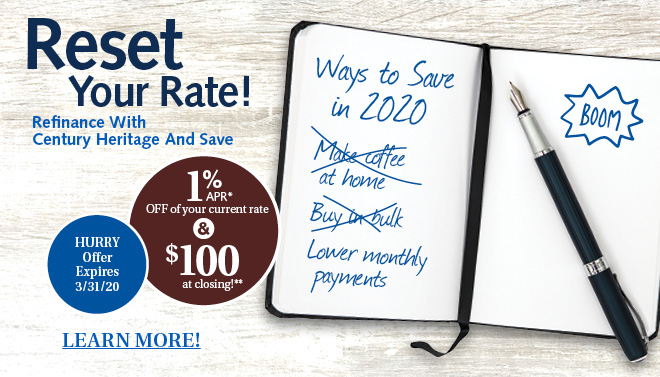 If you have a car that you love but a payment you hate, refinance your high-interest auto loan with Century Heritage.
Lowering your payment has never been easier!
Submit your application now. We'll process it and then get in touch to tell you how much you could save!
For a limited time, when you refinance your auto loan with Century Heritage you could drop your auto loan rate by 1% APR*. PLUS, we'll give you $100 cash** at loan closing.
Plus, Enjoy:
Flexible terms
Affordable monthly payments
Optional loan protection products
Apply for Refinancing >>
*APR=Annual Percentage Rate. APRs range between 3.49 – 16.73% based on your credit and our underwriting standards and are subject to change without notice. Minimum loan amount is $8,000. Existing CHFCU auto loans are not eligible for offer. Vehicle restrictions may apply. Insurance required. Applicants must meet membership eligibility requirements **Upon closing of qualifying loan, $100 will be deposited into your CHFCU savings account. Other terms and conditions may apply. Offer expires 3/31/2020. Upon receipt, we will process your request and contact you.
---
NOT A MEMBER?
Open a savings account with a minimum deposit of just $5.00 to join Century Heritage Federal Credit Union! Submit an ONLINE MEMBERSHIP REQUEST now!
**Contact the credit union for membership eligibility. Certain restrictions may apply.