Transfer Your Balances Today.
Please read our Application and Solicitation Disclosure before clicking to apply or transfer.
Apply Online >>
Balance Transfer >>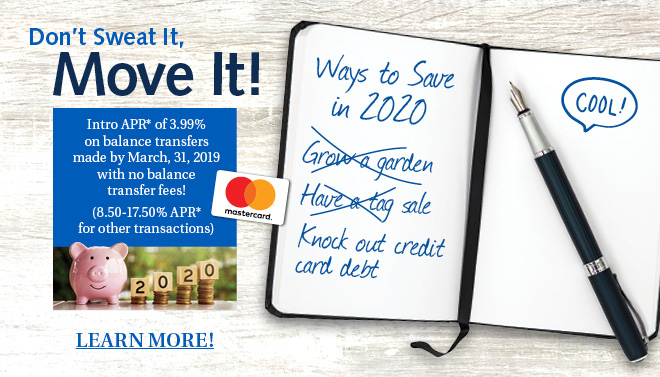 Did you overdo it this holiday? If your holiday fun came at the expense of your wallet and credit card bills are starting to pile up, don't sweat it! Move your balances from your high-interest credit cards to a Mastercard® credit card from Century Heritage. Pay down your debt one low monthly payment at a time. Compare our low intro rate of 3.99% APR* with the national credit card average of 19.21% APR** and see how much you could save on interest!
Plus, with no balance transfer fee, it costs nothing to make the switch.
Other Perks Include:
Introductory APR of 3.99% on balance transfers made by March 31, 2020, with NO Balance Transfer Fee. (8.50%-17.50% APR* for other transactions).
No Annual Fee
25-day grace period on transactions
Earn Scorecard Rewards points redeemable for merchandise, cash back, and more
Apply Online >> Balance Transfer >>
*3.99% Promotional Annual Percentage Rate (APR) effective as of date of first balance transfer and applies to subsequent transfers through March 31, 2020. An APR between 8.50% and 17.50%, based on your credit, will apply to all other transactions and any transfer amount remaining at the end of the promotional period. The promotional period expires on December 31, 2020. Multiple transfers permitted up to your credit limit. Interest begins to accrue on transfers on the next payment date. Minimum credit limit is $1,000. Eligibility is based on credit union membership requirements, proof of income and underwriting standards. Contact the credit union for details. Equal Opportunity Lender. **Based on the national credit card interest average. Source: Wallethub.com, January 2019.
NOT A MEMBER**?
Open a savings account with a minimum deposit of just $5.00 to join Century Heritage Federal Credit Union! Submit an ONLINE MEMBERSHIP REQUEST now!
**Contact the credit union for membership eligibility. Certain restrictions may apply.